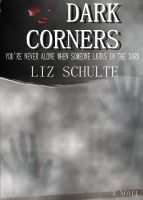 I was recently given the opportunity to review Dark Corners by Liz Schulte. First, let me disclose that suspense is not my type of genre, but I LOVED this book. I couldn't put it down. I read the entire thing in less than a day!
Ella's husband was murdered very violently in their house. She believes he may have been killed by a ghost because she cannot get over the feeling that someone or something is watching her 24/7. A year has gone by with no arrests and no answers in her husband's murder, so Ella decides it is time to take the investigation into her own hands. The discovery is unbelievable!
This is very different from many other suspense novels that I have read. I must say this is an incredibly interesting book and the editors have been so gracious to give a copy to one of my readers.
Giveaway: One lucky reader will win a copy of Dark Corners. The winner can choose between an ebook and a paper copy.
The book tour is also giving away a signed copy, $20 Amazon gift card, and a $20 Barnes and Noble Gift Card. Enter here
Mandatory Entry: You must be a GFC follower of my blog! Leave a comment for each entry with your email address.
Extra Entries:
- Be an email subscriber of my blog
- Post a link to my blog on your blog roll
- Blog about this giveaway. Make sure and include the URL.
Details: This giveaway will end on September 14, 2011 at 11:59 pm. One winner will be chosen via random.org.
Disclosure: I was given a copy of this book to review. All opinions are 100% mine. I received no other compensation for this post.